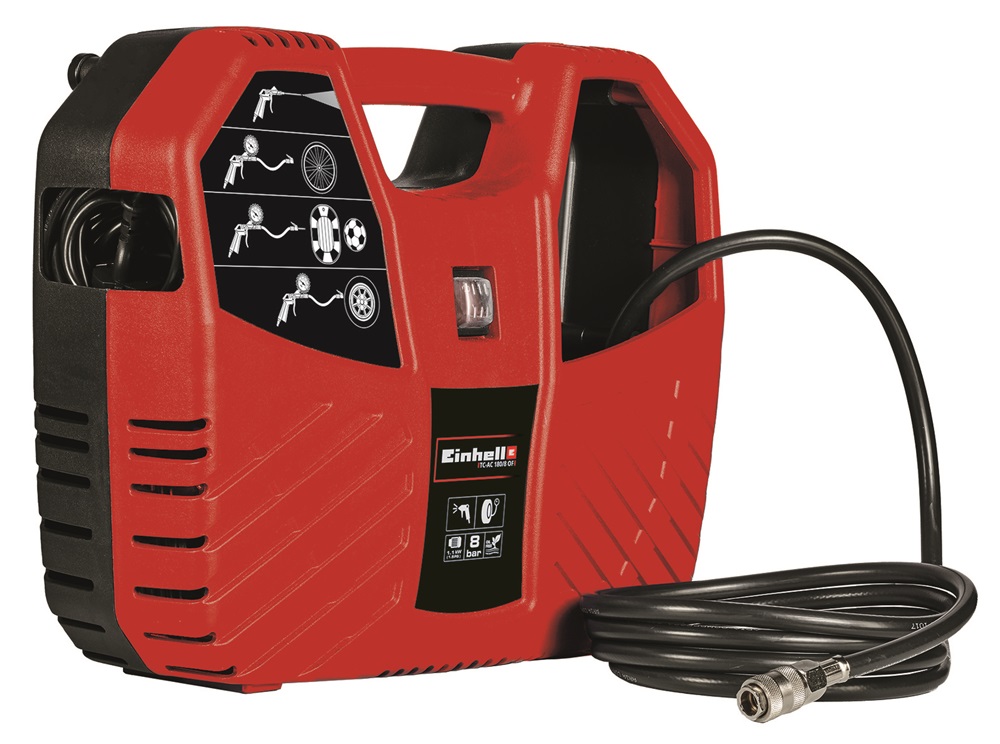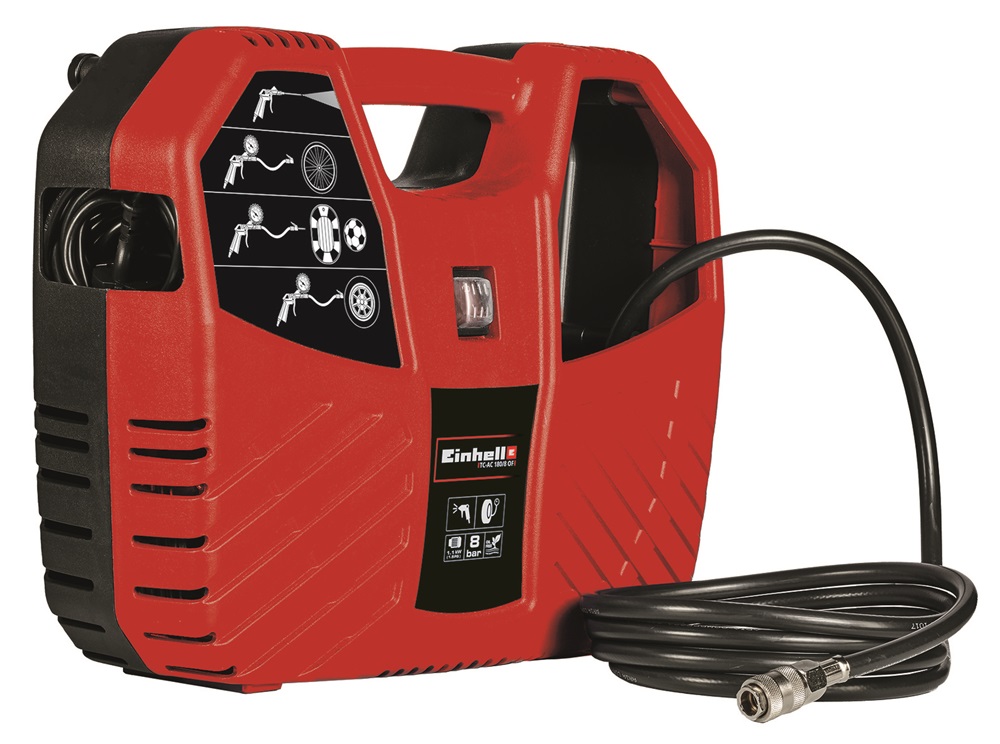 Einhell 4010486 TC-AC 180/8 OF kompresszor
---
---
Garancia:24hónap
---
Leírás
Einhell koffer kompresszor TC-AC 180/8 OF
Gyártói cikkszám: 4010486

• Olajmentes, karbantartást nem igénylő motor - minimális költségráfordítás
• Könnyű, ergonomikus és kompakt kialakítás
• Egyszerű szállítás és helytakarékos tárolás
• Max. 8 bar nyomásig számos feladatra használható
• 3 méter hosszú sűrített levegő tömlő gyorscsatlakozóval
• Készülékházba épített, kényelmesen hozzáférhető tartozéktároló
• Lefuvató pisztollyal, keréknyomás mérővel és 8 részes adapterkészlettel

Műszaki adatok:
Elektromos hálózat 220-240 V | 50 Hz
Motor max. teljesítménye (S2 | S3-%) 1100 W 1.5 PS 15 %
Motor fordulatszáma 15000 min -1
Szivattyú fordulatszáma 3750 min -1
Szívóteljesítmény 180 L/min
Leadott teljesítmény 0 bar-nál 95 L/min
Leadott teljesítmény 4 bar-nál 36 L/min
Leadott teljesítmény 7 bar-nál 10 L/min
Max. üzemi nyomás 8 bar
Hengerek száma 1 db

Logisztikai adatok:
Termék súlya (kg) 5.02
Egyedi csomagolás mérete 450 mm x 150 mm x 353 mm

Termékleírás::
Az Einhell TC-AC 180/8 OF kompresszor egy kisméretű, sűrített levegős kompresszor, melyet praktikus kofferben vásárolhat meg. A könnyű és kompakt kivitel egyszerű és kényelmes szállítást tesz lehetővé, a kompresszor így bárhol és bármikor bevethető, és helytakarékosan tárolható. A kompresszort olaj- és karbantartásmentes motorral tervezték, így minimális költségráfordítást igényel. A max. 8 bar nyomással üzemelő kompresszort számos feladat elvégzésére használhatja: fújja fel vele pl. a gépjármű- vagy kerékpár abroncsokat, labdákat, medencéket vagy gumimatracokat, fúvassa ki a motorokat, vagy egyszerűen csak tisztítsa le a műhelyben a munkadarabokat, a burkolatokat és a munkaterületet. A készlet tartalmaz egy lefuvató pisztolyt, egy keréknyomás mérőt és egy nyolcdarabos adapterkészletet, valamint egy gyorscsatlakozóval ellátott 3 méter hosszú sűrített levegő tömlőt. A tartozékokat a készülékházba épített tárolóban helyezheti el.
Shipping cost
For all orders free shipping!
Secure Payment
We ensure secure payment
Money Back Guarantee
Any back within 14 days
Customer service
We will respond to your email within 72 hours.
---